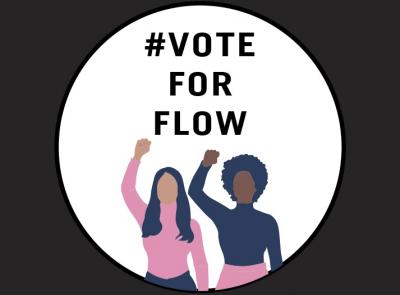 From "Gift to Tech Awarded to CDAC/WST Menstrual Product Program"
By Victor Rogers | April 16, 2019
Georgia Tech Daily Digest
The Cultural Diversity and Affairs Committee/Women, Science, and Technology Menstrual Product Program (CDAC/WST MPP), a pilot program offering free menstrual products to campus, is the 2019 Gift to Tech winner.
The Center for the Study of Women, Science, and Technology (WST) is partnering with students involved in the Cultural Diversity and Affairs Committee (CDAC) of the Student Government Association (SGA) to establish the program.
The program began to take shape when Niveda Shanmugam, William Harrer, and Alex Casado, co-chairs of CDAC and vice president of Student Life, heard from people who menstruate saying that they had trouble affording menstrual hygiene products. The three said they realized the problem was rooted in unfair gender inequality, so they decided to make a difference in this space. In turn, they led the development of the strategy, funding, execution, and logistics for the initiative to provide sustainable, biodegradable, easily accessible, and free menstrual products for the campus community.
In creating a plan, the organizers worked with a number of campus departments including Health Initiatives on a survey to gauge the need; Facilities Management regarding advice on installations, refilling, and inventory; and with Student Life and building managers to determine where to place the dispensers of menstrual products and how many are needed. CDAC identified certain buildings as likely locations for the dispensers — the Scheller College of Business, the Clough Undergraduate Learning Commons, Klaus Computing Building, the Student Center, and the Instructional Center.
CDAC also established a relationship with Aunt Flow, an organization that provides tampons and pads that are organic cotton, biodegradable, comfortable, and free for students on campuses across the country.
The Gift to Tech funds will cover most, if not all, of the overhead costs of the program for one year.