Audra Murphey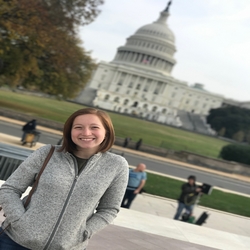 Audra Murphey is from Marietta, Georgia, and is a Public Policy student. She is an active member of the Georgia Tech community, and participates in mock trail, is a member of Alpha Chi Omega, the President of the Ivan Allen College Student Advisory Board for Undergraduate students, and was an orientation leader. She is a WST undergraduate research partner with Dr. Mary Frank Fox (School of Public Policy), in a range of research from designing research graphics to tracking log books. When asked about what she appreciates the most about her research partnership with Dr. Fox, Audra said, "working for Dr. Fox and her team has proven to me the power of female mentors. Collaborating with hard-working, capable women is empowering like nothing else I have ever experienced." She has been working with Dr. Fox since her freshman year, but took a brief break from the assistantship in order to work in Washington, D.C. for Congressman John Lewis in the fall of 2017. Audra plans to attend law school after graduating from Georgia Tech. She is excited to apply the skills—such as database analysis, graphical representation, and team collaboration—which she has learned during her time with Dr. Fox's research team. After law school, Audra hopes to practice law and eventually affect political change to ensure that underrepresented communities are offered the same incredible educational and mentoring opportunities that she has experienced.
DJ Baker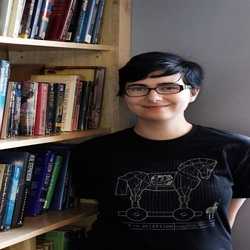 DJ Baker is a Computational Media Major from Warner Robbins, Georgia, working with Dr. Yaszek (School of Literature, Media, and Communication). In the WST research partnership, DJ has edited the website womensf.loa.org, and is doing research on how to make a good podcast by evaluating best practices of podcasters. DJ explained that the WST partnership has been fun and exciting work that will be beneficial in the future. DJ loves how relaxed Dr. Yaszek is and that she is a good friend, too. DJ says, "I think the undergraduate research is both an excellent opportunity to get work experience, and it's also just fun." After graduation, DJ hopes to become an animator, especially considering how much Si-Fi animation is growing lately.
Hayden Smith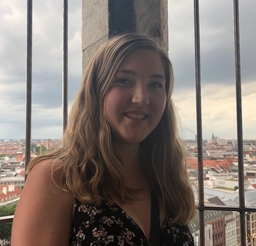 Hayden Smith is from Roswell, Georgia and is majoring in Computational Media. She works as WST undergraduate research partner with Dr. Karen Head (School of Literature, Media, and Communication [LMC]), editing the Atlanta Review Database as well as making the LMC student handbook gender neutral. Hayden enjoys her partnership because she is able to combine her love of quantitative work with her interest in liberal arts. She said that "being a part of WST helped me realize how much I care about science and technology, and it helped me change my mind about my major to find something that combined what I love to do." She also said that one thing she appreciates is that her WST research partnership has allowed her to have real, practical skills that she will be able to use in her life. Besides her research partnership with Dr. Head, Hayden is a member of a Alpha Chi Omega, and is a part of a club called Wreckless, which promotes mental health throughout campus.
Jacqueline Jung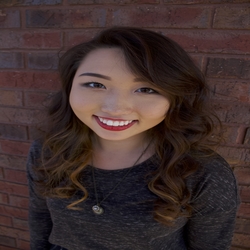 Jacqueline Jung is a psychology student from Warner Robins, GA. She works with Dr. Ruth Kanfer (School of Psychology) on research taking a deeper look at psychology in the workplace, focusing specifically on how to attract and retain women in STEM fields. Jacqueline believes that this assistantship has been a "really invaluable experience."  She explains that the research "really taught me a lot of things not only about psychology, but also intangible skills such as  communicating with professors and working with adults." She believes that some of the skills she's learned would not have gained from classroom experiences. Aside from her research assistantship, once a week, Jacqueline gives back to the community through volunteering for City Hope as a K-5 tutor, and is also serving as a Teaching Assistant for GT1000, an introductory course for Georgia Tech freshman.
Kaitlin Shea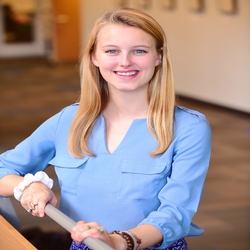 Kaitlin Shea is a recent graduate (B.S.) of the School of Literature, Media, and Communication (LMC).  While at Georgia Tech, Kaitlin was a WST undergraduate research partner with Dr. Lisa Yaszek (LMC).  In her partnership, Kaitlin reviewed female science fiction writers and their stories, and decided which were especially important.  Kaitlin loved this position with Dr. Yaszek because it gave her the freedom to do research, and she never felt like it was work but rather was "fun."  She found that the undergraduate research partnership helped her round out her time at Georgia Tech, and allowed her to make the transition into her life after graduation.  Kaitlin said that the WST undergraduate partnership "helped [her] learn how to make tough decisions and also have self-confidence in those decisions". Kaitlin now lives in Atlanta and works at a social media advertising agency.
Nic Alton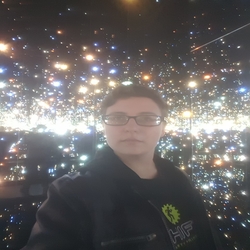 Nic Alton is a computational media student from the Philadelphia, Pennsylvania area. Nic began to formally work with Dr. Yaszek on queer and trans representation in science fiction in January 2019, and they are focusing on how to build science fiction worlds that are inclusive to queer and trans people. Nic first heard about the assistantship opportunity with Dr. Yaszek while taking one of her classes, and realized that a research assistantship like this would allow them to do something they enjoy while getting paid to do it. Nic states, "It's been great getting the opportunity to do something that I love so much in an academic setting, under a professor who is great at bringing out the best in people." After graduation, Nic hopes to start a video game company that creates inclusive, interesting video game narratives. 
Rachel Wexler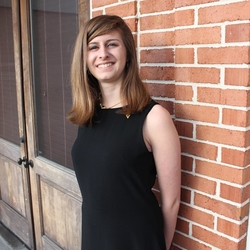 Rachel Wexler is a Public Policy student from Sanibel Island, Florida. She came to the School of Public Policy because of its small size and close knit community. Through her major, she found interest in science and technology policy, and specifically in organizational structures. During the spring of her freshman year, she began working as WST undergraduate research partner with Dr. Mary Frank Fox (Public Policy), and continues. She has worked on analysis of bibliometric data, graphical representations, and other assignments. Something Rachel really appreciates about her research partnership is the work environment Dr. Fox creates for the group. Rachel said, "Not only has Dr. Fox taught me good research practices, she has challenged me to become a more capable problem solver, and has shown me what a supportive workplace looks and feels like." Rachel's mother, Arlene, worked as a television news producer for 30 years and was a trailblazer for women in her field. Rachel is very interested in women's careers in science and technology, and uses what she has learned taking classes with and working with Dr. Fox to support the aspiring women scientists and engineers in her life. Rachel was able to intern with U.S. Senator Bill Nelson, and later, with NASA. She is excited to continue her assistantship with Dr. Fox.
Taylor Howell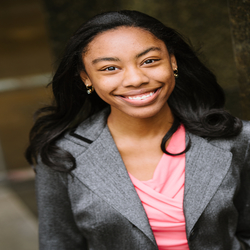 Taylor Howell is a Chemical Engineering major from Fayetteville, Georgia. Besides her WST undergraduate partnership with Dr. Willie Pearson (School of History and Sociology), she tutors K-12 students through a program called L3 Educational Solutions, LLC. Taylor assists Dr. Pearson on a project analyzing the experiences of African American women in the engineering fields. She said that "I see the project as a sort of dual responsibility. With my status as an African American woman who is a chemical engineering major, I have a duty to scrutinize the socioeconomic implications for a frequently marginalized demographic. Moreover, analyzing and gleaning from these experiences is a charge that will ultimately improve and advance engineering education." Taylor had been interested in the trends related to African American women in the chemical engineering field before her WST research partnership when she took a class with Dr. Pearson. She loves her research partnership because this work directly influences her and her field of study, and she hopes that the results of the research will be able to push for policy changes on the subject.
Yasamin Khorashahi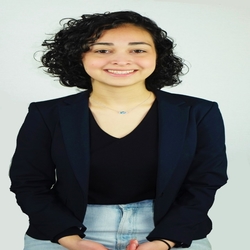 Yasamin Khorashahi is a WST undergraduate partner for Dr. Fox, and a public policy student from Cumming, Georgia. She is majoring in public policy, and she learned about the research position with Dr. Fox through one of the required courses for the major. She explains that something that really stood out to her during this course was the gender equity aspect of policy and organizational structures, and this is what drew her to the assistantship. In her assistantship, she is gaining "understanding of how to work on a research team and make lasting connections with other women on the team." Yasamin loves that she is able to work with other women on gender studies at Georgia Tech, and she truly admires the work that Dr. Fox has done with making WST research clear and easily understood by everyone.
Yendi Neil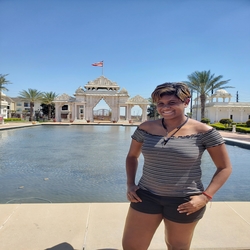 Yendi Neil is from Johns Creek, Georgia majoring in Psychology with a minor in International Language, Culture, and Business.  Yendi is involved student organizations such as the Caribbean Student Association, the Japan Student Association, and Seolustice, which is a Korean Culture student organization. In her WST assistantship, Yendi works with Dr. Ruth Kanfer (Psychology) on condensing prior research on women and minorities in STEM to a literature review, in order to help companies attract more women in the STEM fields. After completing the literature review, the information collected will be developed into a practitioner toolkit for companies to use. Yendi says she loves the people she works with as well as having the chance to have a hands-on research experience. She also believes that this assistantship lends to her psychology major: "This assistantship will really allow me to be more hands-on in the research process and be able to apply psychology to improve the STEM workforce, too." She hopes that she will gain a better understanding of how to properly conduct research, and she thinks that working on this will help her understand industry better as well.