Emerson Barrett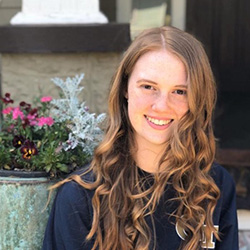 Emerson Barrett is majoring in History, Technology, and Society and is from Atlanta, Georgia. She is a WST research partner with Dr. Amanda Weiss in the School of Modern Languages, focusing on "HIVEMIND," a speculative fiction magazine. The project involves research, writing, and teamwork. Emerson appreciates the female-led team, and says she has learned to work in a professional environment that will be important in her future career. In research, she has been surprised by the prevalence of pen names for female science fiction writers since she started her research. In addition, Emerson has participated in International Ambassadors at Georgia Tech (GTIA), WREK on campus radio, and the School of History and Sociology Undergraduate Committee.
Josie Benner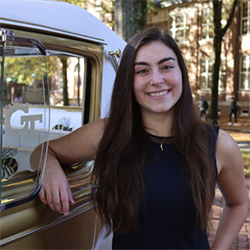 Josie Benner is a Biomedical Engineering major from Greenlane, Pennsylvania. She works as a WST research partner with Dr. Lisa Yaszek in the Science Fiction Lab within the School of Literature, Media, and Communication. After taking multiple classes from Dr. Yaszek, Josie was offered a research position with the team and was eager to study science fiction from a feminist perspective. Throughout this research, Josie has worked with a dedicated group of women from various backgrounds that are often unrepresented in the science fiction field. Josie has engaged in a podcast and a conference about making science fiction and feminist literature accessible to a wider audience. When discussing what she has learned, Josie said that the best way to understand the impact of significant issues is "by learning rather than pushing the issues into the future." This experience has helped Josie understand that things created by engineers can be inspired by literature, and she has been surprised by the number of women involved in science fiction. Outside of this research, Josie is involved in the Society of Women Engineers and Research in the Bioengineering Department, a Coop with Merck Amical Health, and she serves as VP of Recruitment for Campus Tour Guides.
Katie Earles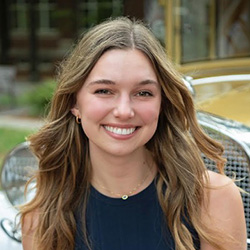 Katie Earles is a Public Policy major from Atlanta, Georgia who graduated in May 2022. As a WST research partner, Katie worked with Dr. Nadya Kostuk (School of Public Policy) on cybersecurity research, focusing on the institutionalization of cyber diplomats. Katie said that the research introduced her to working with international collaborators and it showed her how iterative and challenging the research process could be. The most powerful part of the research was seeing how nascent some of the cyber ambassador positions were; some were created less than a year before. Working on this research inspired Katie to pursue graduate studies and continue to work as a steward and scholar of cybersecurity. Outside of research, Katie is active in her sorority, the Ivan Allen Student Advisory Board as an ambassador for the School of Public Policy, and the Ramblin' Wrek Club.
Teagan Groh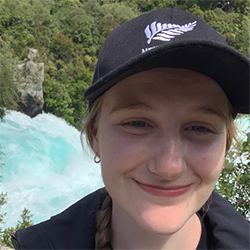 Teagan Groh is a Civil and Environmental Engineering major from Roswell, Georgia. She has known that she would be a yellow jacket since she was 8 years old and swam in the Georgia Tech Olympic-size pool during a swim meet. She is a research partner in Dr. Yongsheng Chen's hydroponics and algae bioreactor lab. In this position, she has grown in leadership, becoming a co-lead for the undergraduate hydroponic team. The research has also shaped her career path, as she originally came to Tech as a Biology major. Teagan values the cultural diversity and range of interests at Georgia Tech. Teagan plans to take a year before pursuing a graduate degree in the area of sustainability. In her words, "hydroponics are the future of sustainable agriculture" and she is enthusiastic about continuing her research in this area.
Divali Legore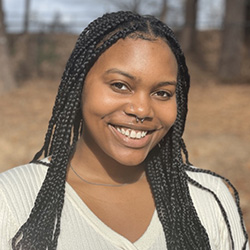 Divali Legore is majoring in Public Policy and is a WST undergraduate research partner with Dr. Mary Frank Fox (School of Public Policy). Divale discovered the opportunity after speaking with Dr. Fox. Divale's interest in gender and women's studies and in women's health policy then propelled her to join the Fox research team. She has helped create WST profiles, worked on bibliometrics, and reviewed graphics representing research findings. Divale describes her experience on the Fox team as one of working with engaged and talented undergraduate and graduate students with great collaboration skills. She especially values exploring research developments in social science about women and gender and contributing to projects with wide impact. Because of this experience as a WST research partner, Divale has begun to consider a career in academia or at a research institute. Outside of her partnership with Dr. Fox, Divali is involved in Student Government where she serves as Chair of the Cultural and Diversity Affairs Committee, and is the Graduate Coordinator at the School of History and Sociology.
Emma Menardi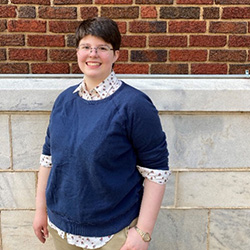 Emma Menardi is a double major in Public Policy and in History and Sociology and is a pre-law student in the Law, Science, and Technology Program. Emma is a WST undergraduate research partner with Dr. Mary Frank Fox (School of Public Policy). She has co-authored with Dr. Fox an article on Work-Family Policy in US Universities that appears on the Georgia Tech ADVANCE website, and currently, is collaborating in research with Dr. Fox and a team of authors of articles about women, science, and engineering. Emma is also a teaching assistant with Dr. Fox in the course on Organizations and Policy. Emma considers her experience with the Fox team to be integral to her pathway to "becoming a social scientist." Following graduation from Georgia Tech, Emma plans to enroll in a joint J.D. and Ph.D. in sociology and law, and she sees herself as continuing to apply skills learned as a WST research partner.
Adaiba Nwasike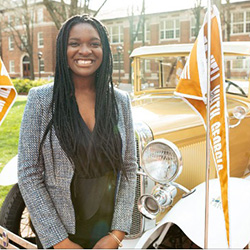 Adaiba Nwasike is a Public Policy major with a minor in Computer Science. She is from Marietta, Georgia, and originally from Nigeria. Adaiba is a member of Dr. Mary Frank Fox's research lab in the School of Public Policy. She was fortunate to get involved with the lab through her Public Policy peer mentor, Yasamin Khorashahi, who is a Master's student in the Fox lab. Adaiba wanted to get involved with research because when she came to Georgia Tech she was interested in understanding how technology relates to inequality, and Dr. Fox's lab integrates gender equity and science studies. Adaiba's involvement with the Fox lab has grown over the past year, and she is excited to see where the research will go in the coming years. In her current role, Adaiba has learned a lot about the processes of conducting research and ensuring that not only is the research accurate, but also that is understandable to a wide audience. She hopes that in her future career she will continue to close gaps between disadvantaged people and technology. Aside from research, Adaiba is a member of the Student Government Association and is a Student Ambassador.
Milan Reddick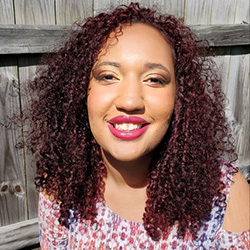 Milan Riddick graduated in December 2021 with a B.S. in Biomedical Engineering and a minor in Health, Medicine, and Society. During her time as a WST research partner, Milan worked with Dr. Jennifer Singh in the School of History and Sociology, conducting a qualitative study on mistrust of the COVID-19 vaccine in the Black community in Georgia. Before joining Dr. Singh's project, Milan researched bacteriophage therapies with Dr. Andres Garcia for two years and worked in the Petit Undergraduate Research scholar program. She joined Dr. Singh's project because it aligned with her own personal research interests in public health and health equity and because she was able to control much of the research methods and practices. Milan wants to pursue a Ph.D. focused on health equity. She was the president of the undergraduate Biomedical Engineering Alliance for Minorities (uBEAM) and the undergraduate chair of diversity and inclusion at the Petit Institute for Bioengineering and Bioscience.
Emma Sweigart
Emma Sweigart is a Literature, Media, and Communications major from Roswell, Georgia. Emma worked with Dr. Susana Morris to curate archival and historical documents for a cultural biography of Octavia E. Butler, one of the first prominent black female science-fiction writers in the United States. Emma created a database of major events from the time of Octavia Butler's birth until the publication of her work. Emma describes her position as "creating a cultural biography connecting her [Butler's] development with what was going on in the world." In her WST partnership, Emma learned about the process of becoming a publishing academic in the humanities and gained mentorship toward her future career as a lawyer. Emma is involved in Greek Life, Circle of Sisterhood, and Hillel.
Jessica Taetle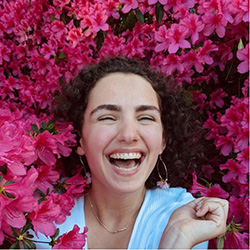 Jessica Taetle is a Computational Media major from Atlanta, Georgia. Although her work is typically more involved with software than with literature, she became interested in research about women in science fiction during a science fiction course that Dr. Lisa Yaszek taught. She then began working as a WST partner with Dr. Yaszek in her Science Fiction Lab. The research team studied women in science fiction in the 1970s. Jessica says that working in the lab and discussing works by authors such as Octavia Butler has changed her perspective on science fiction, and she has been surprised by how much her research experience has influenced her goals and career path. Jessica is also involved with outdoor recreation and Fair Fight Action.
Naqiya Ujjainwala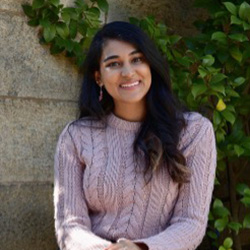 Naqiya Ujjainwala graduated from Georgia Tech in May 2021 with a B.S. in Neuroscience and a minor in Health and Medical Sciences. She was a WST partner with Dr. Philip Ackerman at the GT PARK Lab on a project looking at the underrepresentation of women in science. Naqiya learned the steps in the research process and learned how to work with collaborators across disciplines. She is grateful for her time as a WST Undergraduate partner, as it prepared her to pursue her current job in clinical research, and influenced her plans to go to medical school. During her time at Georgia Tech, Naqiya was also involved with Taal Tadka (a south Asian fusion acapella team).
Edeliz Zuleta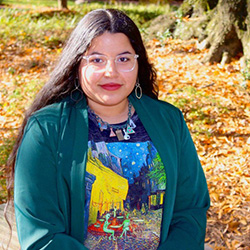 Edeliz Zuleta is a Biomedical Engineering major with a Science Fiction minor. Originally from Puerto Rico, she grew up in Augusta, Georgia. At Georgia Tech, she became a WST partner after her mentor, Dr. Lisa Yaszek, explained to her that science fiction studies are pursuable at Tech. Since then, she has worked in Yaszek's lab studying prominent women's science fiction in the 1970s and the third-wave movement of feminism. She explains that the lab has influenced her to look at science differently, "less about the application, but more about how public perception influences science." She is the treasurer of GT Gourd Art Club.